2017 Kia Niro: A Hybrid That Doesn't Make A Big Deal About It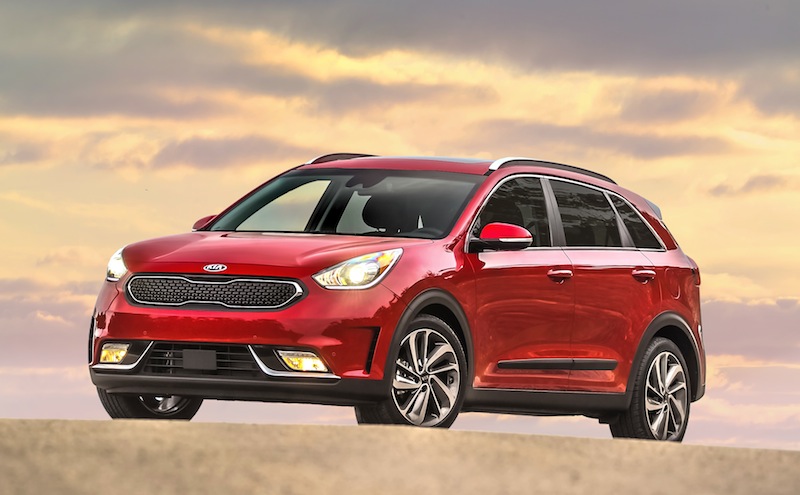 The new 2017 Kia Niro has a lot going for it. It is a compact crossover that has the look and the space to appeal to many buyers in today's SUV-crazy market. It also gets great mileage, with an EPA-estimated rating of up to 50 MPG Combined. That is pretty amazing, until you look closer and see that the 2017 Niro is actually a gasoline-electric hybrid. But Kia would rather you not make a big deal about that…
Early Hybrid History
Back when hybrid vehicles were new and rare, driving one was a mark of distinction in certain circles. The Toyota Prius was uniquely styled and stood out from other cars, proudly proclaiming, "My owner cares more about the planet than you do!" 
The Prius went on to become very popular, not only for its obvious environmental cred, but also because it squeezed the most out of every gallon of gas. The Prius proved that hybrid technology worked and could make a difference, especially when gasoline was very expensive.
Today Is Different
Today, with low gas prices a fact for the foreseeable future, super-economical vehicles are struggling in the marketplace. Current preferences are for trucks and SUVs, not cars. So Kia got an idea: Let's make our hybrid car into a SUV-looking crossover, with a utilitarian-type body and a higher seating position. And by the way, we won't make a big deal about it being a hybrid. Let's just talk about the 50 MPG number – that will get people's attention!
What Niro Has – And What It Doesn't Have
The 2017 Niro has that SUV-like higher seating position, and SUV-like cargo carrying capacity. With the rear seats folded, you get 54.5 cu. ft. of storage space. What it doesn't have is any off-road pretensions. 
The Niro is front-wheel drive, with no option of all-wheel drive. The 2017 Niro's ground clearance of 6.3" is much less than the 8.7" offered by the all-wheel drive Jeep Cherokee or Subaru Forester. It's safe to say that most Niros will be staying on the pavement.
The Hybrid Drivetrain Has One Distinct Difference
The 2017 Kia Niro uses a 1.6L all-aluminum gasoline direct injection Atkinson cycle engine with an output of 104 horsepower. It is supplemented by a 240V synchronous permanent magnet electric motor. Total system horsepower is 139, with a total system torque of 195 lb.-ft. The electric motor's torque provides an instant boost when starting from rest. 
So far, this is standard procedure from the hybrid playbook. The electric motor provides an assist to get the most out of each gallon of gas, and the gasoline engine recharges the battery to keep the system operating.
But in a change from normal hybrid practice, Kia has fitted a quick-shifting six-speed dual-clutch automatic transmission. This sporty type of transmission is normally found in performance cars, and it sends a powerful signal: The Kia Niro is a hybrid you can drive with enthusiasm!
The 2017 Kia Niro Is A Hybrid For Today
The 2017 Kia Niro is a well thought out blend of what today's buyer wants in a new vehicle. The compact crossover form factor is close enough to an SUV, with all the practicality that it implies. The 50 MPG Combined mileage figure is also very appealing, and beats out any other non-hybrid competitor. Finally, at a starting MSRP of $22,890, the 2017 Niro undercuts both the standard Prius and most of its compact SUV competition by a few thousand dollars. The Niro checks all the boxes, and is worth a look.