2018 Dodge Challenger: Old School Muscle Car Still Has The Right Stuff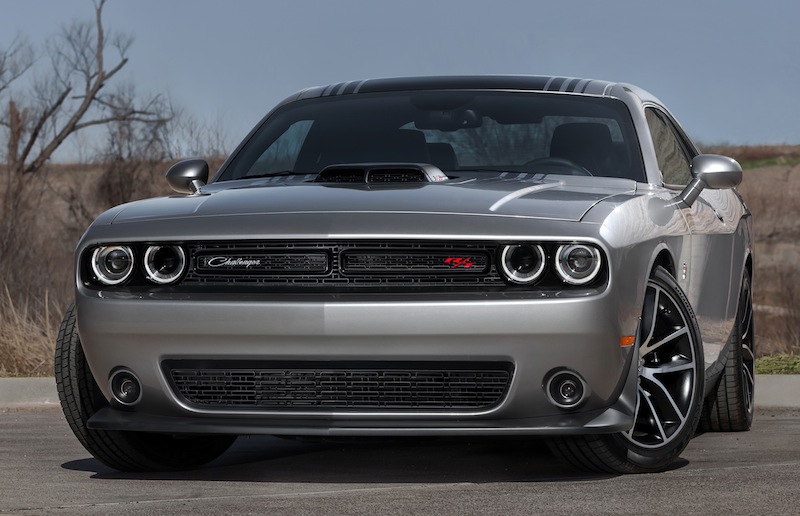 The 2018 Dodge Challenger is a throwback to the muscle-bound "pony cars" of the 1960s and 1970s. It puts a premium on straight-line acceleration, it can be as in-your-face and outrageous as any muscle car from that era, and it is getting old itself.
This "modern" Challenger started in production as a 2008 model. It takes many design cues from its spiritual predecessor, the Dodge Challenger R/T of 1970. Like the 1970 model, the 2008 version was Chrysler's response to the latest version of the Ford Mustang, which was introduced a few years earlier as a 2005 model. Its other main competitor, the Chevrolet Camaro, joined them later as a 2010 model.
Compared to Mustang and Camaro, the 2018 Dodge Challenger is a larger, wider and heavier vehicle. This is because it shares a platform with the full-size Dodge Charger and Chrysler 300 sedans. To save on development costs, the Challenger was built on a shorter-wheelbase version of the sedan platform. As a result, it has the same width.
This does have the benefit of providing much more rear seat room and a comfortable ride, compared to its competition. But again due to cost cutting, the 2018 Dodge Challenger still uses the same platform that it did in 2008. Both Mustang and Camaro have recently received totally new platforms, losing weight, adding technology, and increasing fuel efficiency in the process.
Not the 2018 Dodge Challenger. What the Challenger does better than any other performance car is celebrate its excesses. Too much performance is simply not enough!
What's New On The 2018 Dodge Challenger
Unless you have been living in a cave, you have likely heard about the new-for-2018 Dodge Challenger SRT Demon, the world's first factory production drag car. It has a mind-boggling 840 horsepower and is the most powerful muscle car ever. Who needs to reduce weight when you have all this power? This is the apex predator.
On the next branch down on the family tree sits the new 2018 Dodge Challenger SRT Widebody, powered by the 707-horsepower supercharged 6.2L HEMI Hellcat V-8 engine. Wide fender flares contain the new 20 x 11-inch aluminum wheels with 305/35ZR20 Pirelli tires.
So now you have two potential upgrades for when a standard Challenger SRT Hellcat is just not enough. The 2018 Challenger SRT Hellcat model gets new grille and fender badges, as well as an optional Demonic Red leather interior.
The 5.7L HEMI V8-engined models of the 2018 Challenger can now be equipped with a Performance Handling Package, with four-piston Brembo brakes and uprated suspension. Many new wheel options have been added across the 2018 Challenger lineup.
Every 2018 Challenger gets a standard 7" touchscreen with Uconnect 4 system, Apple CarPlay and Android Auto. A rear back-up camera and one-touch up windows are also standard for 2018. Last but not least, some favorite Challenger exterior paint colors from the 1970s have been added: F8 Green, IndiGO Blue, and the return later in the year of B5 Blue and Plum Crazy.
You Don't Buy A 2018 Challenger Like You Buy Other Cars
Most people will buy a 2018 Dodge Challenger not because they need one, but because they want one. It is a deeply emotional purchase. Dodge knows this, so they have made a Challenger for every budget and desire. Here, they are, sixteen in all, from the bottom to the Demon – you can even get one with all-wheel drive:
2018 Dodge Challenger SXT

2018 Dodge Challenger SXT Plus

2018 Dodge Challenger GT AWD

2018 Dodge Challenger R/T

2018 Dodge Challenger T/A

2018 Dodge Challenger R/T Shaker

2018 Dodge Challenger R/T Plus

2018 Dodge Challenger T/A Plus

2018 Dodge Challenger R/T Plus Shaker

2018 Dodge Challenger R/T Scat Pack

2018 Dodge Challenger 392 HEMI Scat Pack Shaker

2018 Dodge Challenger T/A 392

2018 Dodge Challenger SRT 392

2018 Dodge Challenger SRT Hellcat

2018 Dodge Challenger SRT Hellcat Widebody

2018 Dodge Challenger SRT Demon
2018 Dodge Challenger pricing starts at $28,090 for the SXT and reaches terminal velocity with the SRT Demon at $86,090. It all comes down to one simple question: how much performance can you afford?