2018 Dodge Durango SRT: Want Some Muscle Car In Your SUV?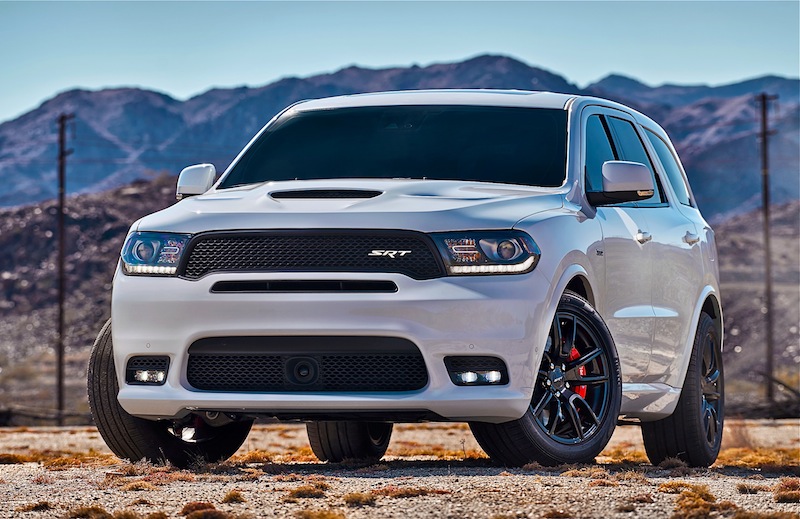 The 2018 Dodge Durango SRT stakes out some unique territory in the SUV market. As a high-performance SUV, it is not alone. There are many options to be found among the German prestige brands, and even Jeep has its Trackhawk. But as a seven-seater SUV with loads of power and handling to match, the Durango is, in the words of Dodge, "America's fastest, most powerful and most capable three-row SUV."
Built From The Dodge Parts Bin
The 2018 Durango SRT is another example of FCA's creative re-use of the building blocks composing its existing vehicles. Take the engine from the Dodge Charger SRT and place it in the Durango. Dress up the exterior with a hood scoop, blacked-out grille, fender flares, and black wheels. Then upgrade the suspension and brakes to handle the extra power, and dress up the interior. Finally, add about $15,000 to the price of the previously most expensive Durango to make this a true top-of-the-line model. You now have the 2018 Dodge Durango SRT, with an MSRP of $62,995.
Power First: Yes, It's A HEMI!
As befits the newest vehicle to be added to the SRT performance sub-brand, the 2018 Durango SRT has the muscle to qualify for inclusion. Its 392-cubic-inch HEMI V8, breathing fresh air through its new functional SRT hood, puts out 475 horsepower. Its zero to 60 mph acceleration time of 4.4 seconds, and its quarter-mile time of 12.4 seconds have been certified by the National Hot Rod Association. The 2018 Durango SRT is plenty fast in a straight line. 
It Can Do More Than Go Straight
The rest of the mechanicals have been beefed up to handle what the engine can dish out. A new performance-tuned AWD system helps the Durango SRT distribute its 475 horsepower to all four wheels. It is aided in this by the eight-speed automatic transmission, which has been specially calibrated. 
The massive Brembo high-performance braking system features vented rotors at all four corners for major stopping power. The Bilstein active-damping high-performance suspension tames the bumps and corners flat. The 20" Low Gloss Black wheels are shod with Pirelli tires.
Still An SUV Inside
The 2018 Durango SRT has not forgotten that it is, first and foremost, a three-row SUV. It boasts a best-in-class towing capability of 8,900 lbs. You can seat up to seven in the comfortable seats. Cargo space maxes out at 84.5 cu. ft. when you fold both the second row and third row split-folding seats down. 
Interior Amenities Aplenty
Inside, the 2018 Durango SRT comes with a standard leather and suede interior. You also get an SRT flat-bottom performance steering wheel with paddle shifters, heated and ventilated front and heated second-row captain's chairs, a new driver-oriented electronic T-shifter with Auto Stick selector gate, and a new 180-mph speedometer.
The SRT seven-mode drive system lets the driver precisely adjust drive settings to maximize performance or comfort. This includes Sport Mode and Track Mode, which progressively reduce shift times and deliver more power to the rear wheels.
And speaking of driving on a track…
You're Already Signed Up For Driving School
Every customer who buys a new 2018 Dodge Durango SRT will receive one full-day session at the Bob Bondurant School of High Performance Driving. This is a great idea – you really do need to learn how to control this 200-inch long, nearly three-ton performance vehicle before you take it on the road, with your family along for the ride. Drive responsibly!
The 2018 Dodge Durango SRT Is Not For Everyone
The 2018 Durango SRT will appeal to a small group of buyers who really regret giving up their sporty performance coupes in favor of SUVs for hauling their families and stuff around. It is a bit excessive, but you could make the case that all that extra power is what gives the Durango SRT the ability to tow so much, and to haul heavy loads without breaking a sweat. It's your call! If you are interested, check your local Dodge dealer during the fourth quarter of 2017.