2018 Honda Odyssey: All-New Model In A Shrinking Segment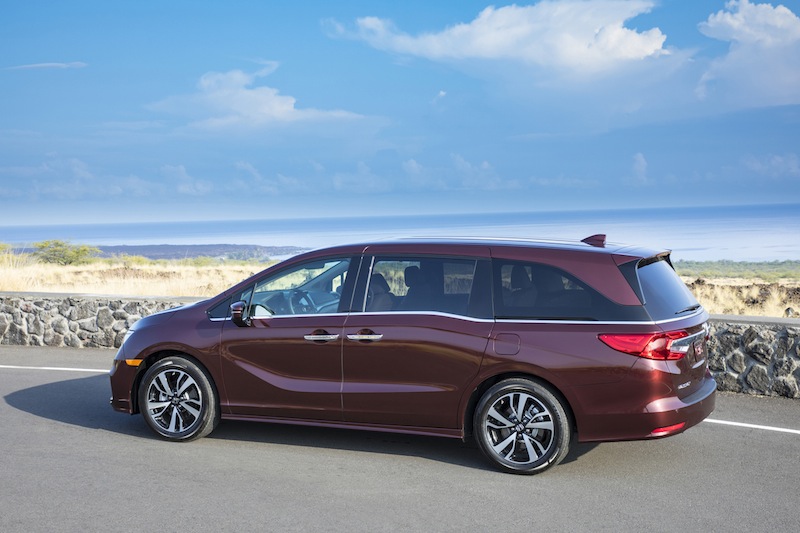 The minivan segment is shrinking. Back in the minivan heyday of the mid-1980s through the early 2000s, just about every manufacturer had one in their lineup. Today, we are down to five: Honda Odyssey, Toyota Sienna, Chrysler Pacifica, Kia Sedona, and the ancient Dodge Grand Caravan.
The original Chrysler minivan was a revolutionary vehicle when it was first introduced for the 1984 model year. It offered loads of space in a right-sized package, car-like handling, easy-access sliding doors, decent fuel economy, front-wheel drive traction, and trim levels from basic to luxurious. Baby boomer parents responded and so did other carmakers. 
A Generation Was Raised In Minivans
Millennial kids by the millions were carted around in minivan carpools, to and from school, and to gymnastics and soccer practice. They were used for family vacations and trips to Grandma's house for Thanksgiving. Years later, they hauled those same kids to college dorms in the fall and back home in the spring. It was great while it lasted.
Later on, when it came time for those kids to have families of their own, most of them decided that they were unwilling to spend any more time in a minivan. This was not a vehicle that they could picture themselves owning or driving. Their current vehicle of choice? SUVs of course, with a third row if necessary, and with a luxury nameplate attached if they reside in an upscale zip code.
So here we are, with only five minivans remaining. The Honda Odyssey has established itself as one of the best of the bunch and has a loyal following. The all-new 2018 Odyssey is available at dealers now.
Odyssey News For 2018
The 2018 Odyssey comes in six trim levels: LX, EX, EX-L, EX-L NAVI RES, Touring, and Elite. Honda expects 95 percent of Odyssey sales to be EX and higher trims. New and standard across all models are dual zone climate control, steering wheel paddle shifters, and capless refueling.
Highlights of features on other trim levels are:
EX: Honda Sensing driver assistance technology, Magic Slide 2nd-row seats, Display Audio with Apple CarPlay and Android Auto, power sliding doors
EX-L: Leather seating surfaces, power tailgate, power moonroof
EX-L NAVI RES: Navigation, rear entertainment system
Touring: LED headlights, built-in vacuum cleaner, 4G LTE WiFi (w/data plan)
Elite: Heated and ventilated front seats, 465-watt audio system, wireless device charging
Upgraded Odyssey Engine For 2018
A new 3.5L direct-injected V6 engine, offers 280 horsepower, 32 more than last year's model. It is mated to either a 9-speed automatic transmission in LX, EX, EX-L and EX-L NAVI RES trims, or a 10-speed automatic in Touring and Elite trims. Both transmissions are new for 2018. 
The 2018 Honda Odyssey offers EPA-estimated fuel economy ratings of 19 MPG in the city and 28 MPG on the highway.
In-Cabin Communication Innovations
Several new features make in-vehicle communication easy in the 2018 Odyssey. CabinWatch lets the driver and front passenger view the second- and third-row passengers on the 8" display screen in the dash, using a ceiling-mounted camera. The new CabinTalk in-car public address system lets the driver talk with second- and third-row passengers through the speakers in those rows. Pretty cool!
It's Not Your Parents' Minivan
If we take a truly objective look at the 2018 Honda Odyssey, it is clear to see that this state-of-the-art people mover has plenty of space, plenty of power, comfortable seating, high-tech driver assistance features, and luxurious amenities that make traveling a pleasure. The minivan has matured into an even better all-around vehicle for just about any purpose. Maybe you don't really need that three-row SUV…