2018 Hyundai Accent: No More Cheap, Crappy Economy Cars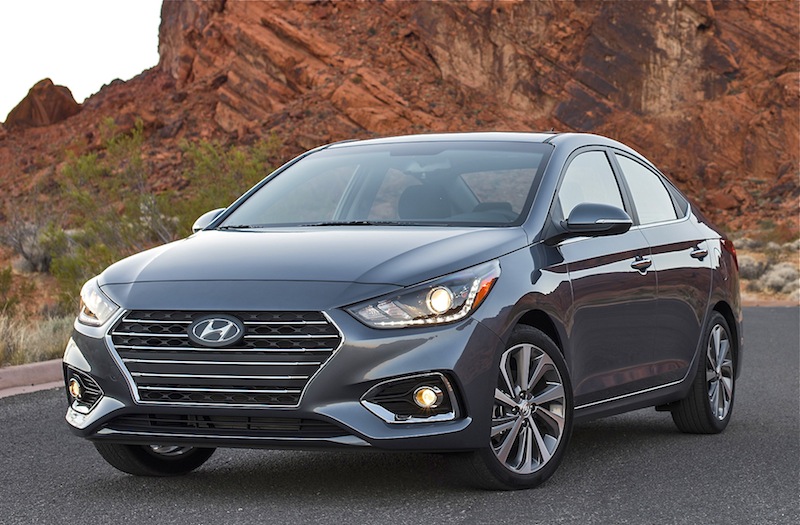 The Hyundai Accent started out in 1994 as the Korean brand's entry-level subcompact car. Cars like the Accent used to be strictly bargain-bin specials. They had the bare minimum of content needed to sell them at a very low price. The seats were uncomfortable. They were very noisy, because there was no sound insulation. Their tiny little engines could barely move them out of their own way. They did poorly in crash tests. The base models were true penalty boxes, and the top trim levels simply put some lipstick on the pig. No one bought one of these because they wanted to. These cars were the last resort for new car buyers with the tiniest budgets.
Today, things have changed. Emissions and safety regulations require long-term performance and durability. Computer controls and direct fuel injection have boosted power ratings on even the smallest engines. And today's consumers want all the goodies – a stripped-down advertised special is not what entry-level buyers are looking for. In addition, manufacturers now see their least expensive vehicles as the first step on that lifelong journey that they hope consumers will take with their brand. That cheap economy car has become an essential first impression, so it has to be good.
The all-new 2018 Hyundai Accent has made the transition from its early days as the king of the low-priced crapboxes. Today, the Accent has become a well-engineered and well-equipped small four-door sedan that can wear its "H" logo proudly. It has helped Hyundai to evolve its sedan lineup in the same way that German brands like Mercedes-Benz and BMW have done. The Germans' "same sausage, different sizes" marketing strategy puts the inherent goodness of the brand into all its vehicles, then lets you pick the size and price point that's right for you.
Styled To Have The Family Resemblance
The 2018 Hyundai Accent wears the new family face, featuring Hyundai's signature cascading grille, framed by wraparound headlights and LED running lights. It is larger inside, the result of being longer, wider and having a longer wheelbase. The 2018 Accent is actually classified as a compact car in terms of interior space! Its drag coefficient of .28 is excellent for a smaller car.
Inside, the Accent's upscale look continues. A well-designed instrument panel features a standard 5" color touchscreen that integrates a backup camera. Other standard interior equipment includes air conditioning, cruise control, four-speaker audio system, tilting steering wheel with audio and cruise controls, Bluetooth hands-free phone capability, trip computer, cabin air filter, and six-way driver's seat. Pretty good for the base model!
Available options on the 2018 Accent include a power sunroof, 17" alloy wheels, 7" touchscreen display with Apple CarPlay and Android Auto, smart trunk release, pushbutton start, heated front seats, and dual-zone automatic climate control.
2018 Hyundai Accent Trim Levels And Pricing
The 2018 Hyundai Accent is available in the following trim levels: SE, SEL, and Limited. Pricing for the 2018 Accent starts at $14,995 for the SE with six-speed manual transmission, and tops out at $18,895 for the Limited.
Engine And Transmissions
The 2018 Hyundai Accent comes with a single engine choice. It is a 1.6L direct-injected four-cylinder, rated at 130 horsepower, and driving the front wheels. Transmission options are a six-speed manual (SE trim only), or a six-speed automatic with Normal or Sport modes (optional on SE, standard on SEL and Limited).
Safety Features Aplenty
The 2018 Accent comes standard with six airbags, electronic stability control, vehicle stability management, traction control and ABS. The 2018 Hyundai Accent also offers available forward collision-avoidance assist. This system uses front-facing radar to warn the driver of a potential collision. If the driver does not react, the system applies emergency braking.
The 2018 Hyundai Accent Is All Grown Up And Ready For Prime Time
There are many people who do not need a large car, and who don't want to spend a lot. The 2018 Hyundai Accent offers a lot of content at a very reasonable price. City dwellers, empty nesters, and others who want a smaller vehicle that doesn't require any sacrifices, should check out the new 2018 Hyundai Accent.