2018 Mitsubishi Outlander Sport: So-So SUV From A Barely-Here Brand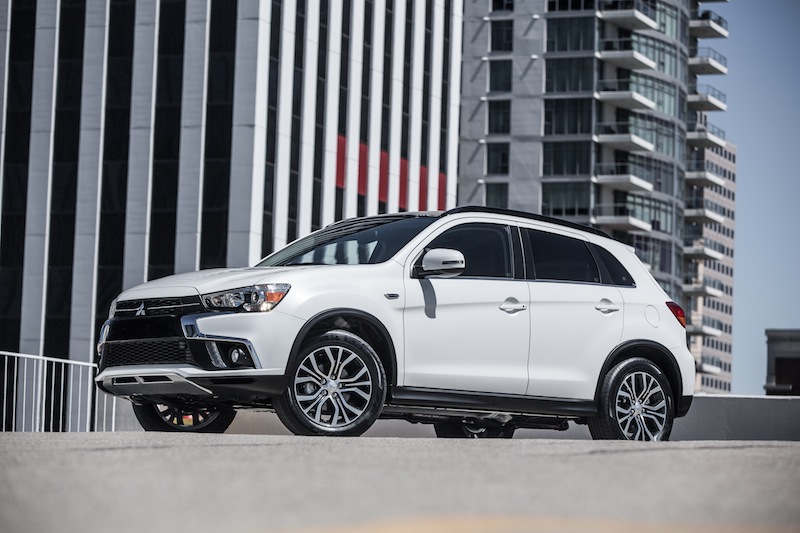 The Mitsubishi brand occupies a strange place in the American automotive market. It is the fully developed carmaking subsidiary of a huge and well-known Japanese conglomerate that makes everything from ships to canned tuna fish. Tuna fish? The Three Diamonds brand is Mitsubishi's own – in fact, the Japanese translation of "Mitsubishi" is "three diamonds." Their logo appears on the can, just as it does on each car's grille!
A Notable History in the US
During the late 20th Century, Mitsubishi had a large automotive presence here in the US. It supplied Chrysler Corporation with many small cars and trucks during the 1970s and 1980s, sold under the Chrysler, Dodge, Plymouth and Eagle brands. Mitsubishi also sold its own complete line of vehicles here, which included pickup trucks, sedans, and sports cars. Mitsubishi even operated its own assembly plant in Illinois, which produced over 200,000 vehicles per year at its peak.
The 1991 Mitsubishi 3000GT VR-4 was a 320-horsepower, all-wheel drive supercar with astounding performance and technology for the time. Their Lancer sedan has won 34 World Rally Championship events, and the Pajero SUV has made the company the most successful manufacturer in the history of the Dakar Rally. Between 1992 and 2007, Mitsubishi won this grueling African desert race a total of 11 times, including an uninterrupted string of victories between 2001 and 2007.
So What Happened?
A variety of misfortunes befell the company worldwide. From a million-vehicle defect cover-up scandal in the early 2000s to the shuttering of their Australian, European, and American plants, to their recent Japanese fuel mileage scandal, the company has not been doing well. As a result of the recent fuel mileage scandal, Nissan was able to buy a controlling interest in Mitsubishi. The company's likely future points to badge-engineered versions of Nissan vehicles. That may not be a bad thing.
2018 Outlander Sport: The Last Of A Breed?
The 2018 Mitsubishi Outlander Sport represents the third generation of its platform, and has been in production since 2010. It is a two-row compact crossover/SUV that competes with the Toyota RAV4, Honda CR-V, and Ford Escape, even though it is a bit smaller inside. Sales-wise, it sits right near the bottom of the list, with 2,910 sales for July 2017, compared to 41,804 for the RAV4 and 31,761 for the CR-V. Not so great.
What's New On 2018 Outlander Sport
The 2018 Outlander Sport has received a facelift, with new front and rear bumper designs, and LED running lights. The interior receives a 7" Smartphone Link display audio system with Apple CarPlay and Android Auto, a newly designed floor console, and a new shift lever. A new optional Touring Package offers a panoramic roof, plus advanced driver assistance features including forward collision mitigation, lane departure warning, automatic high beam, and a rear camera. There is also a new exterior color for 2018, Alloy Silver.
Five Trims, Two Engines, Two Transmissions, Two Drive Systems
The 2018 Outlander Sport is available in five trim levels: ES, LE, SE, SEL, and GT.
The ES and LE trims come with a 2.0L four-cylinder engine with 148 horsepower. The SE, SEL, and GT come with a 2.4L four-cylinder engine with 168 horsepower.
The ES is available with either a five-speed manual or a CVT automatic transmission. The CVT automatic is standard on all other trim levels.
The ES, LE, SE, and SEL are available in both front-wheel drive and all-wheel drive versions. The GT has all-wheel drive standard.
The 2018 Mitsubishi Outlander Sport
The 2018 Outlander Sport has a few unique things going for it. While it offers a manual transmission option, a low starting price, and a 10-year/100,000 mile powertrain warranty, it lacks the sophisticated engineering and top-notch build quality of its class-leading competitors. Let's hope that this new tie-up with Nissan will lead to better things behind the Three Diamonds grille badge!