2018 Porsche 911 Turbo S Exclusive Series Coupe: Can Any Mass-Produced Car Be Unique?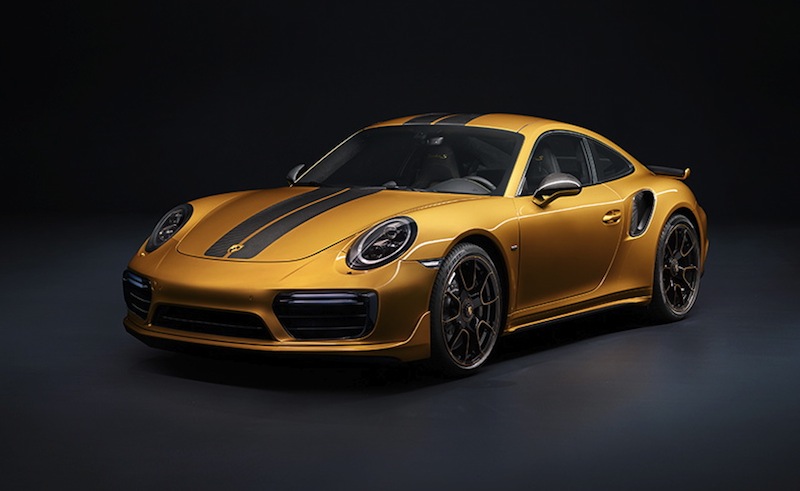 The world's high-end carmakers are continually striving to satisfy the individual needs of their well-heeled clienteles. These people have more than enough wealth to buy any vehicle they might want. 
The problem comes when they see someone else in their peer group with the same car as they are driving. Oh, the horror! To them, it's like two women showing up at a party in identical designer dresses. This is a situation that must be avoided, and cost be damned!
Mass Customization To The Rescue
Which brings us to "mass customization." Most upper crust automakers have the ability to customize various aspects of their vehicles to a customer's specific tastes. This can be a special custom exterior color, unique interior materials, higher performance components, and sometimes even custom bodywork. 
These modifications can add tens or hundreds of thousands of dollars to the cost of the basic vehicle. To these customers, the expense is worth it. They can drive away in something that they consider unique. The value of these "upgrades" is another question entirely.
You Can't Tell Anyone
If you are one of these manufacturers, you can't really publicize these projects. Your clients want their privacy, after all. So how do you let the world know that you have these capabilities? 
For the past 31 years, the Porsche Exclusive program has handled all of the company's custom work. Its popularity has grown to the point where Porsche is now making it a standalone department called Porsche Exclusive Manufaktur.
In a clever bit of publicity for this new entity, Porsche Exclusive Manufaktur has created the 2018 911 Turbo S Exclusive Coupe. Five hundred units will be made for worldwide consumption. This is Porsche's way of showcasing their capabilities in this area, while turning it into a $128 million payday for themselves.
Start With The Top Of The Line
The starting point for the 911 Turbo S Exclusive is the 911 Turbo S Coupe, the highest performance non-track focused 911, which lists for $190,700 on Porsche's website. The Turbo S Coupe is an upgrade from the "standard" 911 Turbo Coupe, with 580 horsepower and a top speed of 205 mph, vs. 540 hp and 198 mph for the standard Turbo. The cost increase for the Turbo S over the standard Turbo is $28,900. 
Welcome to the wonderful world of Porsche options, where you can get anything from leather-covered dashboard air vents to hand-painted Porsche crests on each wheel to a few more horsepower, as long as you are willing to pay the price. And the price is steep. 
Making The Turbo S "Exclusive"
More power and performance is expected. The 911 Turbo S Exclusive's 3.8L twin-turbo flat-six engine has an increased output of 607 horsepower, 27 hp more than the standard Turbo S. Top speed remains at 205 mph. All of Porsche's chassis upgrades are included, including the Porsche Ceramic Composite Brake system, Porsche Active Suspension Management, Sport Chrono package, rear-axle steering and Porsche Dynamic Chassis Control.
Outside, this exclusive car gets an exclusive finish in Golden Yellow Metallic paint, with carbon fiber front trunk lid, roof, and side skirts (other colors are available). Two carbon-weave stripes run along the roof and front trunk lid. The rear features the Turbo Aerokit rear wing and a new rear fascia. Color-coordinated wheels and brake calipers complete the effect visually. 
Inside, the 18-way adjustable sports seats are covered in perforated leather with two central stripes, seam stitching, and headrest lettering done in Golden Yellow to match the exterior. The Alcantara roof lining also incorporates a Golden Yellow double stripe.
But Wait, There's More!
For that complete feeling of exclusivity, the 911 Turbo S Exclusive Coupe can be had with a matching watch and set of luggage. The watch, a Porsche Design Chronograph 911 Turbo S Exclusive Series, features a titanium case and a carbon dial with dual stripes in the car's paint color. Price on the watch has not yet been announced, but it won't come cheap.
The custom luggage set consists of five bags with matching stripes, designed to fit in the car's available luggage space. It costs a mere $6,324.
The Cost Of Exclusivity, Porsche-Style
The price of the 2018 911 Turbo S Exclusive Series Coupe will start from $257,500, a premium of $66,800 or 35% over the standard 911 Turbo S Coupe. The matching watch and luggage set will be sold separately.
Let's put this all into perspective: the standard 2017 Porsche 911 Coupe, an excellent car by any and all standards, starts at $91,100, not an insignificant sum. How much do you really need to spend on a car to feel special?