2018 Subaru Crosstrek: Case Study On How To Make A Compact SUV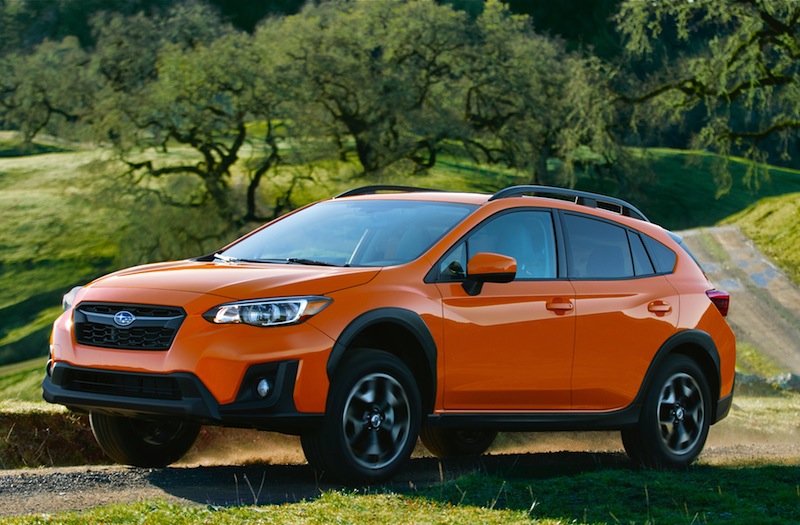 The 2018 Subaru Crosstrek is the all-new second generation of this relatively new addition to the Subaru SUV lineup. It was first introduced for the 2013 model year. The Crosstrek follows the extremely successful pattern that Subaru established over twenty years ago, when it first created the 1995 Outback:
Start with a garden variety Subaru model

Raise it on its suspension

Add body cladding for a off-road capable look

Give it a rugged, outdoorsy name

Sell it in large quantities!
Just as the Outback was born from the Subaru Legacy Wagon, the Crosstrek is the jacked-up, ruggedized offspring of the Impreza five-door hatchback. In today's SUV-crazy market, the Crosstrek has outsold the lower-priced Impreza, by 110,138 to 86,043 for calendar year 2017.
2018 Subaru Crosstrek Trim Levels And Pricing
The 2018 Subaru Crosstrek is available in three trim levels: 2.0i, 2.0i Premium, and 2.0i Limited. 2018 Crosstrek pricing starts at $21,795 for the 2.0i with six-speed manual transmission, and goes up to $26,295 for the 2.0i Limited.
One Crosstrek Engine, Two Transmissions Available
The 2018 Subaru Crosstrek comes with a 2.0L direct-injected four-cylinder engine with a power output of 152 horsepower. A six-speed manual transmission is standard on the 2.0i and 2.0i Premium. A CVT automatic transmission is a $1,000 option on the 2.0i and 2.0i Premium, and is standard on the 2.0i Limited. On the 2.0i Premium and 2.0i Limited, the CVT adds a seven-speed manual mode function with paddle shifters. Symmetrical all-wheel drive is standard on every 2018 Subaru Crosstrek.
What's New On The 2018 Subaru Crosstrek
In addition to a new, larger body structure that can absorb 40 percent more crash energy and is 70 percent more rigid, the 2018 Crosstrek offers a variety of new standard equipment. This includes 17" alloy wheels, six-speed manual transmission (up from last year's five-speed), active torque vectoring, 4-speaker multimedia audio system with 6.5" touchscreen, Apple CarPlay and Android Auto integration, Bluetooth hands-free phone and audio streaming, gloss black rear roof spoiler, and simulated carbon fiber interior trim.
The 2018 Crosstrek Has High-Tech Safety Equipment
Every 2018 Crosstrek comes with a driver's knee airbag, standard front side airbags, and side curtain airbags. In emergency braking, brake assist applies pressure to help increase braking effectiveness. The brake override system cuts the engine power when the brake pedal and accelerator are pressed at the same time. Reverse automatic braking can apply the brakes if an obstacle is detected while backing up.
The optional EyeSight system includes adaptive cruise control, automatic pre-collision braking, and lane departure and sway warnings. Blind spot detection with lane change assist, and rear cross traffic alert are also available.
New for the 2018 Crosstrek is available steering responsive headlights, which aim the beams in the direction of the vehicle on curved roads for better nighttime visibility, and high beam assist, which automatically activates and deactivates the high beams as needed.
The 2018 Subaru Crosstrek Can Go Off-Road, In Moderation
While the 2018 Subaru Crosstrek is based on the Impreza five-door, there are some differences that may push you toward the Crosstrek. With 8.7" of ground clearance and more aggressive standard all-season tires, the Crosstrek is fully capable of moderate off-roading – just don't try anything too extreme. The Impreza has just 5.1" of ground clearance, which is not ideal on rutted dirt roads, but is fine for driving on normal paved surfaces.
Then there's the appearance – the 2018 Subaru Crosstrek does look like its ready to tackle the backcountry with serious intent. This is the Crosstrek's appeal, but it's fair to wonder how many Crosstrek owners will ever drive theirs off the pavement!