2018 Subaru Outback: Over Two Decades Of Steady Improvement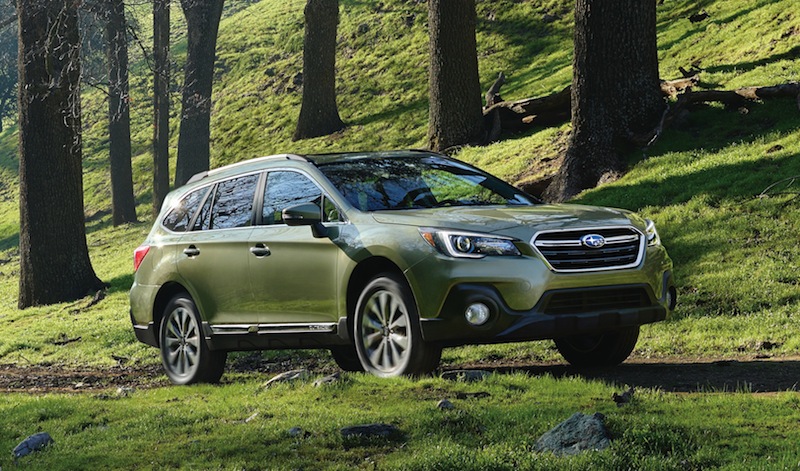 It's over twenty years since Subaru took their Legacy Wagon, raised it on its suspension, added some rugged-looking cladding along the bottom and a few other outdoorsy touches, and called it the Subaru Outback for the 1995 model year. The rest is history. From its debut through the end of June 2017, the Outback has sold more than 1.8 million units in the American market. Not bad for a jacked-up station wagon!
And now 2018 brings a refreshed fifth-generation Subaru Outback, with a variety of refinements that help it to carry on as we approach the end of the second decade of the twenty-first century.
What's New On The 2018 Outback
The 2018 Outback has revised front and rear styling for a sportier look. This includes a new grille, bumper, and fog light design. New premium interior materials include genuine stitching on the dash, seats and door panels, plus a redesigned center console and a new steering wheel. There are 18" machine finish wheels standard on the 2.5 Limited and 3.6R Limited models.
The 6.5" and 8" Starlink Multimedia systems feature Apple CarPlay and Android Auto. The top-level system comes with TomTom navigation with 3 years of free map updates. Both systems are compatible with Over the Air updates using Wi-Fi. The 2018 Outback has improved voice recognition capabilities. Apps added for 2018 include Magellan NAVI, eBird, Best Parking, and Yelp. 
An interesting new tech feature is Steering Responsive Headlights that turn with the front wheels. This is available with the LED headlights.
The Outback Is Still All-Wheel Drive, All The Time
All-wheel drive has been the Outback's calling card since its inception. It is equipped with the Active Torque Split version of Symmetrical All-Wheel Drive. This system employs an electronically managed continuously variable hydraulic transfer clutch to actively control torque distribution in response to driving and road conditions. 
The Outback also employs Active Torque Vectoring for more neutral cornering. Then there is the standard X-Mode, Hill Descent Control and Hill Holder, which add control and performance on slippery road surfaces and inclines. 
A Choice Of Four-Cylinder Or Six-Cylinder Engines
The 2018 Outback comes standard with a 175 horsepower, 2.5L four-cylinder Boxer engine, mated to a Lineartronic transmission with six-speed manual mode and paddle shifters. You can upgrade to a 3.6L six-cylinder Boxer engine with an output of 256 horsepower, also with the Lineartronic transmission.
Six Trim Levels For The 2018 Outback
The 2018 Subaru Outback comes in six different trim levels: Outback 2.5i, Outback 2.5i Premium, Outback 2.5i Limited, Outback 2.5i Touring, Outback 3.6R Limited, and Outback 3.6R Touring. Pricing ranges from $25,895 for the Outback 2.5i to $38,690 for the Outback 3.6R Touring.
Advanced Safety Features Available
The 2018 Outback Premium model offers optional Blind Spot Detection/ Rear Cross Traffic Alert and High Beam Assist with EyeSight packages. The 2018 Limited adds Steering Responsive Headlights and Reverse Automatic Braking on EyeSight-equipped Limited models. The 2018 Touring models have EyeSight and all of these driver assistance features standard.
The EyeSight system uses dual color cameras to monitor traffic movement, optimize cruise control, and provide lane-keeping warnings. The Pre-Collision Braking feature can apply full braking in emergency situations to avoid or reduce frontal impacts.
2018 Subaru Outback Does Everything Well, On And Off Road
While it is not a hard-core off-road vehicle, the 2018 Subaru Outback can handle moderately rough dirt roads of varying conditions on the way to the campsite or the trailhead. It also performs very well in the city or suburbia, through rain and snow. The 2018 Outback's full-time all-wheel drive gives you a feeling of security, whatever the weather. It has plenty of room inside and all the modern conveniences that buyers expect today.