New BMW 2 Series Convertible: Good To Be Seen In, Great To Drive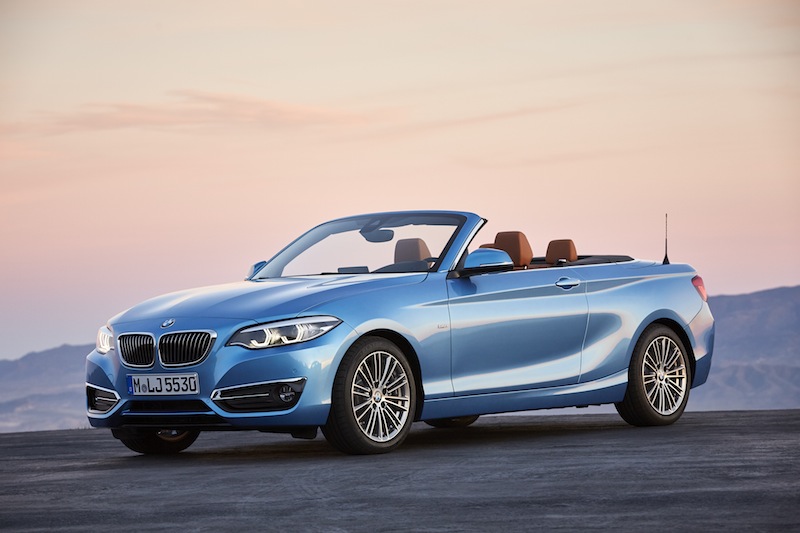 There's something about a BMW convertible. It is sleek, it is sexy, it is a car to be seen in. It also promises an amazing experience behind the wheel, as befits The Ultimate Driving Machine.
On the downside, BMW convertibles tend to be expensive, very expensive. But consider the new BMW 2 Series Convertible, the Bavarian brand's entry-level droptop. Scheduled for launch in July 2017 (likely as a 2018 model), its pricing has not yet been released. But the current 2 Series Convertible that it replaces has an MSRP of $38,950. That's not too bad for a four-seat convertible from a bona fide German luxury brand!
A Brief History Of BMW Convertibles
The first post-World War 2 BMW 4-seat convertibles were built by German coachbuilder Baur, initially on the BMW 2002 and later on the first BMW 3 Series from 1978 to 1981. Baur took 3 Series coupes off the production line, then removed the roof but left all the roof pillars in place, with an added cross brace for rigidity. This odd-looking car had a removable targa top over the front seats and a short folding roof over the back seat. It was enough to prove the concept was viable, and BMW started production of its own full convertible in 1985, basing it on the second version of the 3 Series.
The BMW 3 Series Convertible became a staple of the lineup, becoming very popular in sunny climates like southern California. The larger, more upscale 6 Series Convertible was introduced for the 2004 model year. The 3 Series' folding fabric top gave way to a metal retractable hardtop with the debut of the 2007 model. 
The added complexity and expense of the retractable top, combined with BMW's moving the 3 Series to a more upscale position in its product line, increased the price significantly. This left some room below the 3 series for a smaller, less expensive entry-level convertible. Enter the 2 Series, built on a shortened version of the 3 Series platform, but with a lower-cost fabric top. 
A Facelift That Retains The Good Things That Were There Before
This new 2 Series Convertible has a variety of improvements and upgrades. A new front-end design incorporates standard bi-LED headlights as standard. Three new exterior colors have been added: Mediterranean Blue, Seaside Blue, and Sunset Orange. Several new alloy wheel styles have been added in various sizes. 
Inside, a redesigned instrument panel provides a more upscale look. New leather options have been added. The fabric soft-top has more insulation to keep noise out, and can be opened at speeds up to 31 MPH. There are no major changes here, just a refresh to keep it selling well for a few more years.
A Word About That $38,950 Price
Before you start doing handstands and start expecting a fully optioned car with all the great standard items you have come to expect from the Japanese and Korean brands, STOP. A base BMW is very basic. For that price, you get vinyl seats, a simple radio, no driver assistance features, no navigation – no nothing. Everything, but everything, is an optional extra, even most of the paint colors. And that's when this entry-level BMW can get very expensive. Watch out for the options list!
Where We're Going, We Don't Need Options
But perhaps you can appreciate the 2 Series Convertible as the right-sized, distilled essence of what a BMW once was, back in the days of the fabled 2002 – a no-nonsense, extremely focused driving tool designed to extract the maximum pleasure from winding country roads and highways that open to the horizon. 
It comes with 248 turbocharged horsepower, which is more than enough to make the 2 Series Convertible come alive. An 8-speed sport automatic transmission with paddle shifters gives you control of all that power, as you grip the leather-wrapped steering wheel and the 8-way adjustable front sport seats hold you in place. If this sounds good to you, then everything you need really is standard equipment!