2017 Ford Fusion Sport: Bargain Audi Alternative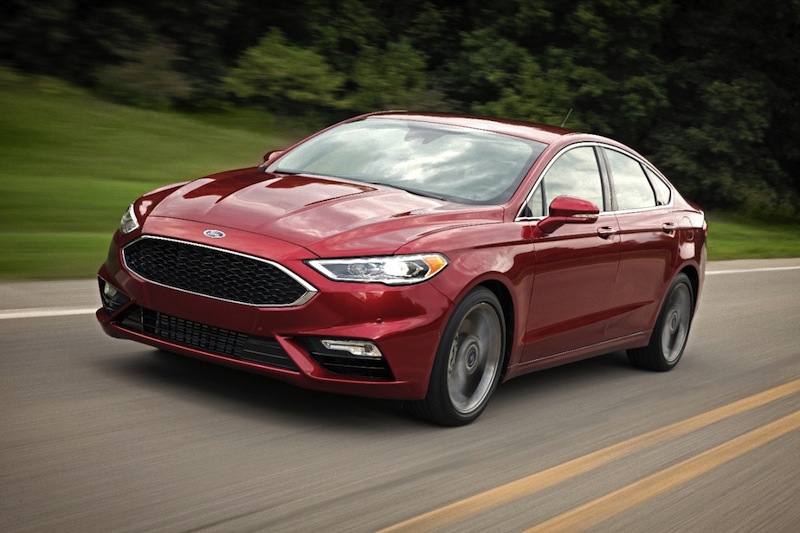 The 2017 Ford Fusion is a perfectly adequate midsize sedan. The current model represents the Fusion's second generation. It has been on the market since the 2013 model year. For the first five months of 2017, the Fusion is the fourth place midsize sedan in sales, behind Accord, Camry, and Altima. 
Unfortunately, this segment is losing sales fast, thanks to American buyers' insatiable hunger for SUVs and crossovers. So what is Ford to do to focus some positive attention on this long-in-the-tooth model that buyers seem less and less interested in?
Create A New High Performance Model!
Behold the Ford Fusion Sport, a more powerful and more capable Fusion than we have ever seen. By adding major helpings of power and grip, Ford may have elevated the Fusion into the league of a certain highly praised German luxury car!
A New Engine For More Performance
The 2017 Fusion Sport's standard 2.7-liter twin-turbo V6 EcoBoost powerplant was first used in Ford's F-150 pickup truck in the 2015 model year. It has spread throughout the Ford and Lincoln lineups, with variants available in the Ford Edge Sport, the Lincoln MKX, and the Lincoln Continental. In the Fusion Sport, it puts out 325 horsepower and 380 lb.·ft. of torque.  This is 80 horsepower more than the next most powerful Fusion engine, the 2.0-liter, 245-hp EcoBoost four-cylinder.
The 2017 Fusion Sport's enthusiastic powerplant is mated to a six-speed automatic transmission with paddle shifters and sport mode, for quick response when you need it.
All-Wheel Drive Puts All The Power Down Smoothly
The 2017 Fusion Sport has standard all-wheel drive and sport suspension, which is a major benefit when you have over 300 horsepower on tap. By channeling all that power through four driven wheels instead of two, wheelspin is minimized, and both traction and overall handling balance are improved.
Protecting You From Potholes
Another innovative feature, appearing first on the 2017 Fusion Sport, is Continuously Controlled Damping. This advanced computer-controlled shock absorber system reads the road ahead, and can actually "see" an upcoming pothole. It then keeps the appropriate wheel from dropping fully into the pothole and striking the other side as it drives through it. This amazing technology will prevent wheel and tire damage as it smooths the Fusion Sport's ride over these obstacles.
Creature Comforts, Standard And Optional
Inside, the 2017 Fusion Sport comes with sport seats with dark gray Miko suede and leather seating surfaces. A leather-wrapped steering wheel contains cruise and audio controls. The driver's seat has 10-way power and the passenger gets a 6-way power seat. A 9-speaker AM/FM Stereo with CD Player and MP3 Capability, and the SYNC communication and entertainment system, with enhanced voice recognition, are also standard. 
Options include voice-activated navigation, dual-zone electronic automatic temperature control, rain-sensing wipers, blind spot information system with cross-traffic alert, active park assist, adaptive cruise control, and a heated steering wheel.
Outside, the 2017 Fusion Sport includes solar tinted glass, LED headlights, fog lights, and taillights, a rear spoiler, and 19" premium alloy wheels. 
Safety And Security Are Built In
Safety features on the 2017 Fusion Sport include seven airbags, a rear view camera, and AdvanceTrac with electronic stability control. Security is provided by a perimeter alarm, keyless entry key fob, and a passive anti-theft system. 
What About That Audi Comparison?
How dare we compare the 2017 Fusion Sport to a luxury car like an Audi? On paper, the Fusion Sport compares very favorably with the much more expensive Audi A6 sedan with the optional 3.0L V6 engine. Let's take a look:
            2017 Ford Fusion Sport        2017 Audi A6 3.0T
Wheelbase            112.2"                    114.6"
Length                191.8"                    194.2"
Engine            2.7L Twin-turbo V6            3.0L Supercharged V6
Horsepower            325                    333
Drive System        All-wheel Drive            All-Wheel Drive
Base Price            $33,605                $58,600
It's true that the Ford nameplate in nowhere near as prestigious as that of an Audi. But when the Fusion Sport can be yours for nearly $25,000 less, isn't it worth seeing for yourself how much of a difference there really is?