2017 smart fortwo electric drive: Budget Mini-Tesla For City Dwellers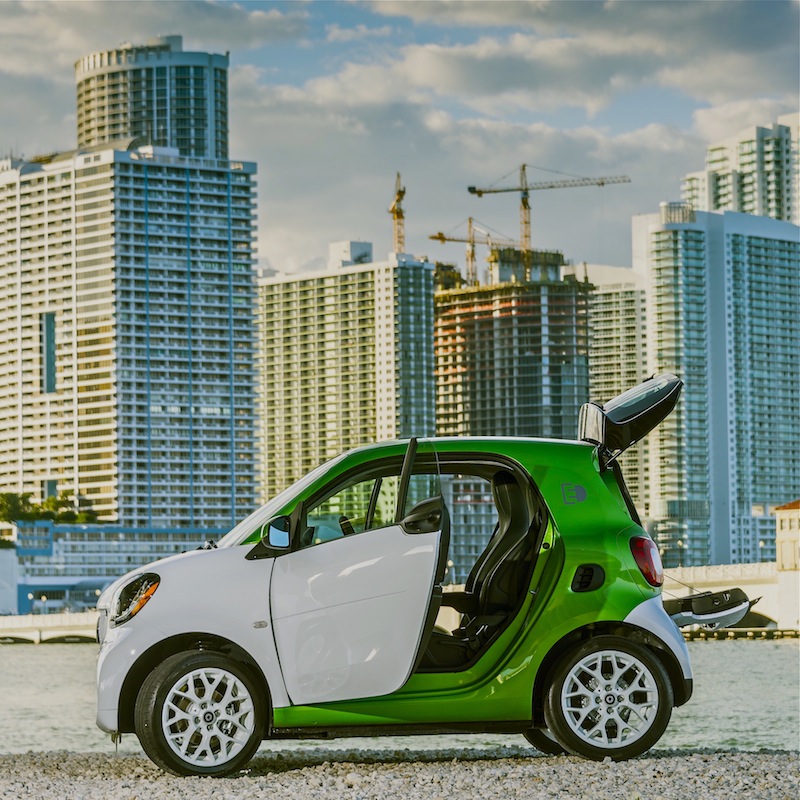 The smart brand (yes, it is properly spelled with a small "s") has had a difficult history. It was originally developed during the 1980s by SMH, the maker of Swatch watches, to meet the need for a very small city car. The project was briefly adopted by Volkswagen from 1991 to 1993. It then moved on to the stewardship of Mercedes-Benz, who committed to a joint venture with SMH. The name smart was derived from the term "Swatch Mercedes ART."
Development problems delayed the release of the first smart car until late 1998. Originally designed as a gasoline-electric hybrid, the car ended up being produced as a conventional gas-engined vehicle. The smart's tiny two-cylinder engine was placed in the rear, driving the rear wheels.
A Troubled History In The US
The smart fortwo two-seater went on sale in the US in 2008. It has sold in very small numbers due to its miniscule size, its poor fuel economy compared to other small cars with four seats, and its balky semi-automatic transmission. An electric version based on the second generation smart, with battery supplied by Tesla, has been available here since 2013. It has been used primarily in Car2Go rental car fleets in various cities. 
No Gas For You
The third generation smart fortwo was introduced here as a 2016 model. In February 2017, the company announced that sales of gas-powered cars in the US would end. Starting in 2018, only electric models will be sold here.
All smarts Are Now All Electric
This leads us to the 2017 smart fortwo electric drive drive coupe and cabrio. These cars now occupy a unique position in our market. Freed from the negative aspects of poor fuel economy and driveability, they can now join the growing field of battery electric vehicles available to American buyers.
The 2017 smart fortwo electric drive drive coupe and cabrio are unique among electric cars. They are not only the shortest and easiest to park of all electrics, but the smart electric drive cabrio is the only electric convertible available in the market. 
The two-seater fortwo cabrio is three cars in one. When it is closed up it functions as a coupe. You can push a button to open the large sliding canvas sunroof, or completely open the soft top for a total convertible experience. 
Other News For 2017
For 2017, the smart fortwo electric drive features a more powerful 80-horsepower electric motor, driving the rear wheels through a single-speed transmission. Torque has been increased by 23% for quicker acceleration. Top speed has been increased from 78 to 81 MPH, and the turning radius is much tighter at just 22.8 ft. 
Range on a full charge is estimated at 70 to 80 miles, which is fine for urban use. Charging time is now 2.5 hours with the new standard 7 kW on-board charger.
Three Trim Levels Available
The 2017 smart fortwo electric drive coupe is available in three trim levels: pure, passion and prime. The cabrio comes in passion and prime trims only. Some notable options are an Electric Green body color and a Climate Package, which includes heated seats, a heated steering wheel and additional insulation for cooler climates.
There Is No Electric Car Priced Lower Than This One
The 2017 smart electric drive coupe and cabrio will arrive this summer at US dealers. The coupe starts at $23,800 MSRP, which makes it the lowest priced 2017 model electric car in the land, before any incentives and tax credits are applied. The cabrio starts at $28,000 MSRP.
Does An Electric smart Make Sense?
If you live in the city, don't need more than two seats, think that an electric car is right for you, have a place to charge it, and don't want to spend Tesla-level money to get one, then the 2017 smart electric drive might just be a good fit for you. It is cute, easy to park, and fun to drive. And the price is definitely right!