2018 Audi A5 And S5 Sportback: The Germans Leave No Niche Uncontested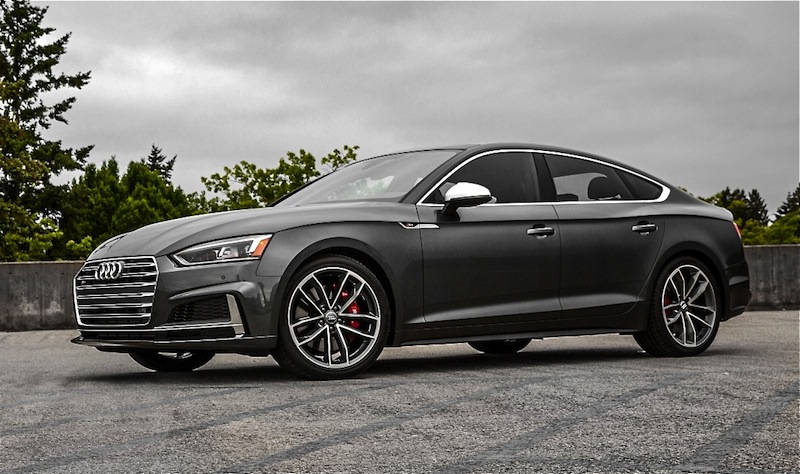 Back in the heyday of the American auto industry, from the late 1950s through the early 1970s, the major US manufacturers produced a variety of body styles from each individual model. There would be a four-door sedan, a two-door coupe, a station wagon, and a convertible. Whether it was full-size, intermediate, or compact car, this was the practice, and it seemed to work. 
Then the energy crisis, the safety crisis, and the emissions crisis befell the industry, and it all came to an end. Solid and safe sedans ruled, and then came SUVs.
Back To The Future
But the German luxury car manufacturers remembered. And as the German luxury brands grew and flourished in the US and around the world, they became locked into an eternal struggle for sales superiority. They had every price point covered, from entry-level to super expensive, with sedans, coupes and SUVs. But they still wanted more.
Niche Mania Begins
This movement started as early as 2004, when Mercedes-Benz introduced the CLS, the first "four-door coupe," a hybrid body style that took a large sedan and lowered the roof to produce a coupe-like silhouette. The BMW 6 Series Gran Coupe and Audi A7 followed later. The "SUV Coupe" is another hybrid, this time pioneered by BMW when it took its mid-size X5 SUV and put a coupe-like sloping roofline to make the X6. Mercedes then followed with the GLE Coupe, based on its GLE SUV. 
And Continues…
This trend has continued into the smaller compact class, with BMW's 4 Series Gran Coupe, a lower, wider version of the 3 Series Sedan, this time with a hatchback. Which brings us to Audi's version of this body style, the A5 and S5 Sportback, newly introduced 5-door hatchback companions to their existing Coupe and Convertible siblings. Audi calls it a five-door coupe, and it offers 35 cu. ft. of space with the rear seat folded down.
Why A Five-Door Coupe?
Perhaps you are considering the Audi A4 Sedan, but you'd like something sportier. Or maybe you love the style of the sleek A5 Coupe, but you need a more practical vehicle. Audi is hoping that the 2018 A5/S5 Sportback may be just right for you.
Two Sportback Flavors: A5 And S5
The 2018 A5 Sportback comes in three trim levels: Premium, Premium Plus, and Prestige. Standard equipment includes a 252-hp four-cylinder turbocharged engine mated to a paddle-shifted seven-speed automatic transmission, driving all four wheels. Also included are 18" alloy wheels, powered leather seats, automatic Xenon headlights, power tailgate, panoramic sunroof, three-zone automatic climate control, 10-speaker sound system, Audi smartphone interface including Apple CarPlay and Android Auto, and rear view camera with 7" center color display.
The 2018 S5 Sportback, available in Premium Plus and Prestige trims, upgrades performance with a 354-horsepower turbocharged V6 engine, combined with eight-speed automatic and all-wheel drive. Additional standard S5 equipment includes diamond-stitched leather or Alcantara-trimmed sport seats with 12-way power and memory, brushed aluminum inlays, and tilt and telescoping multifunction leather-wrapped steering wheel.
High Levels Of Safety
The 2018 A5 and S5 Sportbacks have state-of-the-art safety systems as standard. Eight airbags keep the occupants safe in the event of an impact. The central locking system unlocks for first responder access if the airbags deploy. Anti-lock brakes and electric stability control with brake assist help to prevent accidents. 
Also included are the Audi pre sense City and Basic safety systems as standard equipment. At speeds of up to 52 mph, the City system scans the road, warns the driver, and applies the brakes if necessary to reduce or prevent impacts. The Basic system intervenes in the event of an impending collision by closing the side windows and sunroof, pretensioning the front seat belts, and preparing the brakes for quicker response.
The 2018 Audi A5/S5 Sportbacks Are Two More Options Of Many
The 2018 Audi A5 and S5 Sportbacks have expanded the Audi lineup to a total of 36 models: 15 sedans and sportbacks, 5 SUVs, and 11 coupes and convertibles. If you are cross-shopping, this is in addition to 69 different BMW models and 78 different Mercedes-Benz vehicles. This gives new meaning to the saying: "Shop 'til you drop!"