2018 Honda Accord: Serious About Being The Last Midsize Sedan Standing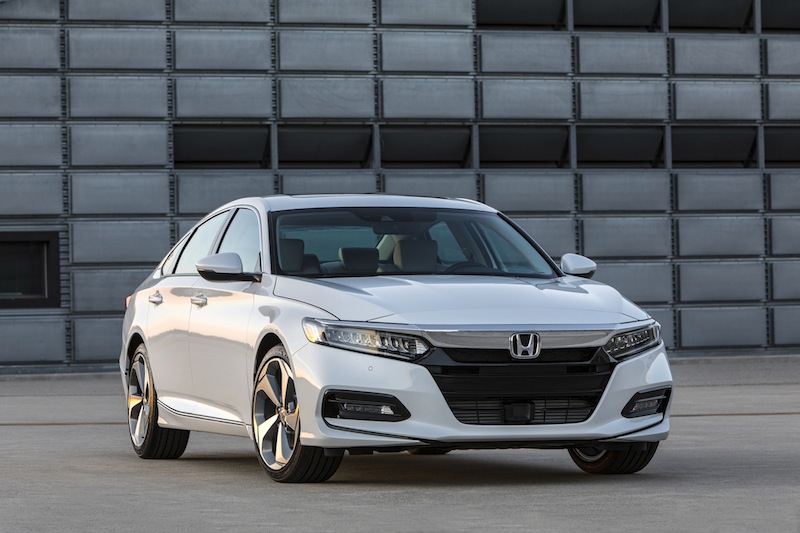 The Honda Accord has been a favorite among American car buyers for 35 years. It was initially imported from Japan starting in 1976. The Accord was the first car from a Japanese manufacturer to be produced in the United States, when Honda started up its Marysville, Ohio plant in 1982. 
Honda Accord Was A Best Seller From The Start
Honda's Accord then became the best selling Japanese car in America from 1982 to 1997. Over thirteen million units of the Accord have been sold since its US debut in 1976. It has been locked in mortal combat with Toyota Camry for the midsize sedan crown for decades, consistently placing first or second. It has been the best-selling midsize sedan at retail (not counting fleet sales) since 2013.
The Accord's quality, dependability, and excellent driving qualities have endeared it to millions of American families, who have remained loyal to Accord through the years and the generations. The Accord became accustomed to being one of the top dogs in the midsize sedan market, which grew to become the largest-selling car segment. Things were good for the Accord, and Honda sold all they could produce.
The World Has Changed, And Accord Must Change With It
The new 2018 Honda Accord represents the car's tenth generation. The steady refinement and constant improvements of the previous generations are no longer sufficient. A serious threat has materialized that threatens the survival of midsize sedans. 
And what is that threat? It's the growth of SUVs as the new favorite vehicle type. Sedan sales are steadily shrinking, to the point where cars represent just 38% of light vehicle sales. What is a former sales leader like the Honda Accord supposed to do to survive?
The 2018 Honda Accord Doubles Down To Try To Become Top Dog
Honda has taken a similar path with the Accord as Toyota has with the Camry. By significantly raising the bar with their latest generation of midsize sedans, Honda plans to take sales not only from other midsize sedans, but also from entry-level luxury sedans. It intends to do this by providing superior quality, safety, technology, and driving pleasure. This, then, is Honda's midsize sedan survival strategy. 
New From The Ground Up
The 2018 Honda Accord has a lighter and more rigid body, an advanced new chassis, two all-new turbocharged engines, the first 10-speed automatic transmission in a front-wheel drive car, along with a wide variety of new safety, driver-assistive and connected-car technologies. All of this new Accord content is wrapped in a sleek and athletic new design with class-leading interior room and comfort.
Powerful New Turbocharged Engines, No V6 Needed
The need for improved fuel efficiency and reduced emissions has driven Honda's development of two new engines for the Accord, both of them four-cylinders, and both turbocharged. 
The standard Accord engine is the new 1.5L direct-injected turbo, producing 192 horsepower. It is mated to a continuously variable automatic transmission, and in Sport trim to a CVT or a six-speed manual.
The Accord engine upgrade is the new 2.0L direct-injected turbo with an output of 252 horsepower. This engine replaces the previous 3.5L V6. It is matched with a 10-speed automatic transmission and in Sport trim to the 10AT or a six-speed manual. 
Advanced Driver Assistance Technology
All 2018 Accords will feature the full Honda Sensing suite of safety and driver-assistive technologies as standard equipment. This includes collision mitigation braking system, lane departure warning, road departure mitigation, adaptive cruise control with low-speed follow and traffic sign recognition. A multi-angle rearview camera is also standard.
2018 Honda Accord Is Playing The Long Game
The 2018 Honda Accord has gone all in. With its total redesign, advanced engines, and cutting-edge driver assistance technologies, it is staking out new ground. The 2018 Accord has drawn a line in the sand, daring any other midsize sedan to equal it, let alone surpass it. It will be very interesting to see how the new 2018 Honda Accord does against the equally new 2018 Toyota Camry. Let the games begin!