2018 Honda Civic: Designed To Be All Things To All People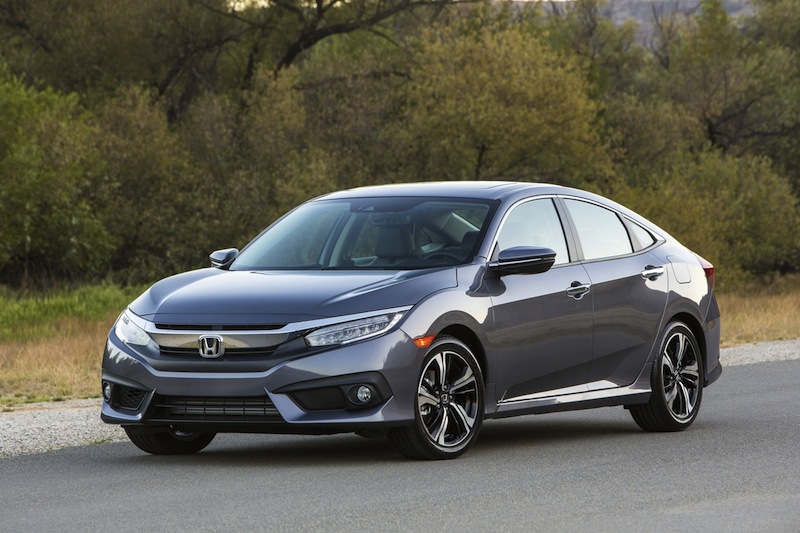 The 2018 Honda Civic is a complete lineup of compact cars produced by Honda. In terms of choices, it is unparalleled in the segment. Here's a quick overview:
Body Styles: Four-Door Sedan, Two-Door Coupe, and Five-Door Hatchback

Trim Levels: Basic, Mid-Range, Luxurious, Sporty, & All-Out High Performance

Engine Power Ratings: From an Adequate 158 to an Overwhelming 306 Horsepower!

Transmissions: Six-Speed Manual or CVT Automatic

Price Range: $19,615 to $33,900
The 2018 Honda Civic represents the third year of the tenth generation of this perennial top-seller. When Honda engineers created this tenth generation, they benchmarked the world's best compact luxury vehicles. The 2018 Civic is in a league of its own among other compact cars, setting new standards in terms of ride, handling, spaciousness, interior quality, quietness, safety, and overall refinement, while remaining affordable. Technically, the 2018 Civic is classified as a mid-size car in terms of interior space, even though it competes with compacts from other brands.
New Features On The 2018 Civic
Not a thing. Everything that was on the 2017 Honda Civic carries over unchanged for the 2018 model year.
A Wide Variety Of Civic Engines Provide Power
Because the Civic Sedan and Coupe are manufactured in North America, and the Civic Hatchback is imported from England, there are differences in trim levels and engine specifications.
The base engine for Civic Sedan and Coupe is a 2.0L four-cylinder with 158 horsepower. Uplevel Sedan and Coupe trims, as well as all Hatchbacks, get a 1.5L turbocharged four that puts out between 174 and 180 horsepower. The sporty Si Sedan and Coupe receive a more powerful 1.5L turbo four with 205 horsepower. And last but not least comes the King Kong of the Civic lineup – the all-out, high-performance Civic Type R, with a 2.0L turbo and a massive 306 horsepower!
Transmission choices for the 2018 Honda Civic family consist of a six-speed manual or a CVT automatic, depending on the model you choose. All 2018 Civics have front-wheel drive, even the Type R.
Safety Systems At The Highest Level
The 2018 Civic has a Honda Sensing package available across the entire range. It includes adaptive cruise control with low-speed follow, road-departure mitigation, forward-collision warning, lane-keeping assist, and collision mitigation braking system, which applies the brakes automatically if the system thinks that a frontal collision is about to happen. Honda Sensing costs only $1,000 on all versions except the top trim levels, on which it is standard.
Honda Lanewatch is standard on most trim levels. This system adds a camera to the passenger-side mirror to eliminate your blind spot. It is activated every time you turn on the right turn signal, with the camera providing a live shot of the Civic's right rear on the rear view camera's screen.
What The 2018 Honda Civic Doesn't Have
With all its amazing variety and choices, there are a few boxes that you can't check on the 2018 Civic order form. If you want all-wheel drive, you are out of luck. For a diesel engine, you will have to look elsewhere. And if you are shopping for a hybrid, sorry – there's no such thing in the Civic lineup. Other than that, Honda's got you covered!
The 2018 Honda Civic Lets You Decide What You Want
The 2018 Honda Civic is obviously doing something right. It has become America's top-selling car for the year to date. It offers something for everyone, in a well-designed, high quality, extremely safe package. If you are looking at compact sedans, the 2018 Civic should definitely be on your shopping list.