2018 Mercedes-Benz E-Class Cabriolet: A Truly Classy Convertible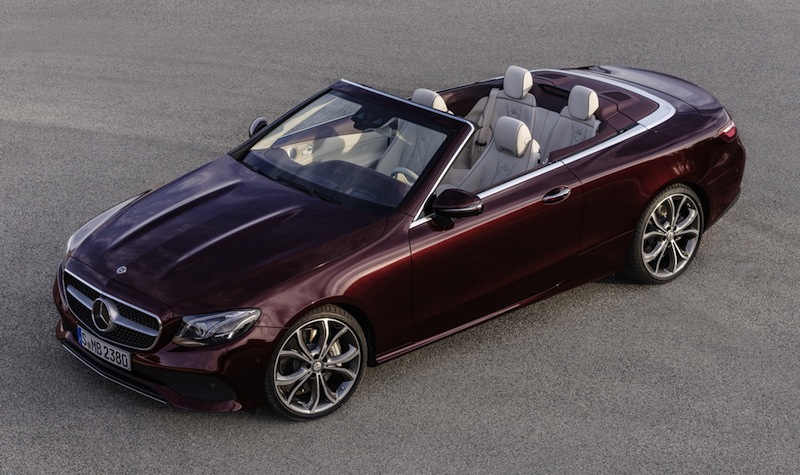 The 2018 Mercedes-Benz E-Class Cabriolet represents the return of the classic convertible concept to the midsize Mercedes model lineup. A luxurious grand tourer with comfortable seating for four, the new E-Class Cabriolet moves closer to its larger sibling the S-Class Cabriolet, and farther from its smaller, tighter C-Class based predecessors.
Size Does Matter In The Rear
The size difference between the current and previous E-Class Cabriolets is significant:
4.4 inches more wheelbase
5 inches more overall length
2.9 inches more overall width
1.4 inches more height
The 2018 E-Class Cabriolet has grown a full size larger. What this means is that each rear passenger has his or her own spacious, separate, and sculpted individual seating area. Long trips in the rear seats are now a pleasure instead of a pain. 
The Top Is A Work Of Art
Mercedes-Benz continues its tradition of having a classic fabric soft top on its upscale convertibles. A soft top can fold into a smaller space, leaving more room in the trunk for luggage when you travel with the top down. Retractable folding hard tops tend to take up most of the trunk when they are folded. 
The E-Class Cabriolet's fully automatic, multi-layered acoustic soft top features insulation that reduces wind and driving noise at highway speeds. The top is available in dark blue, red, dark brown, or black. Top up, the E-Class Cabriolet has a similar silhouette to the E-Class Coupe it is derived from.
A Convertible You Can Drive Top Down All Year Round
The 2018 E-Class Cabriolet features several technologies that make it possible to enjoy top-down motoring all year round, even in cooler climates. Mercedes-Benz's innovative AIRSCARF, which circulates warm air around the driver's and front passenger's necks, is used in conjunction with its AIRCAP, which combines an electric wind deflector in the roof frame and an electric wind blocker behind the rear seats. Together, these systems work to not only keep passengers warmer, but also make them more comfortable by reducing wind buffeting and turbulence at all seating positions.
Power Is Adequate And So Is Traction
The 2018 E-Class Cabriolet will be available with a 3.0L twin-turbocharged DOHC V6 engine with 329 horsepower. The power is fed through a nine-speed automatic transmission to either the rear wheels or all four wheels, depending on whether you spec the available 4MATIC all-wheel drive. With this drivetrain (others will likely follow), it will be known as the E400 Cabriolet and E400 4MATIC Cabriolet.
State Of The Art Safety Systems
Safety starts with the design of the body. Mercedes engineers added special structures to make the Cabriolet's body just as rigid and safe as its sedan counterpart. Lightweight yet strong components of aluminum and high-strength steel make sure that the 2018 E-Class Cabriolet meets not only all current national and international crash requirements, but also Mercedes-Benz's much more stringent internal safety standards.
Additional safety equipment includes:
Front airbags for driver and passenger
A driver's side knee bag 
Thorax/pelvis bags for driver and front passenger 
Side bags in the rear
Pyrotechnic belt tensioners and force limiters on all seats
A special roll-over protection system in which two cartridges are pyrotechnically fired during a rollover, providing a survival space along with with the windshield pillars.
Another standard feature is Active Brake Assist. This warns the driver of an imminent collision and helps with emergency braking. 
2018 Mercedes-Benz E-Class Cabriolet Is Your Four-Season Pleasure Machine
The 2018 Mercedes-Benz E-Class Cabriolet is a four-wheeled fantasy come true. It has beautiful looks, excellent engineering, superb safety, all-weather comfort and year-round top-down capability. What does it cost? Check back in late 2017 when it reaches Mercedes showrooms, but a base price in the mid-to-upper $60,000 area is probably close.