2018 Toyota Camry: A Whole Lot Is Riding On This Car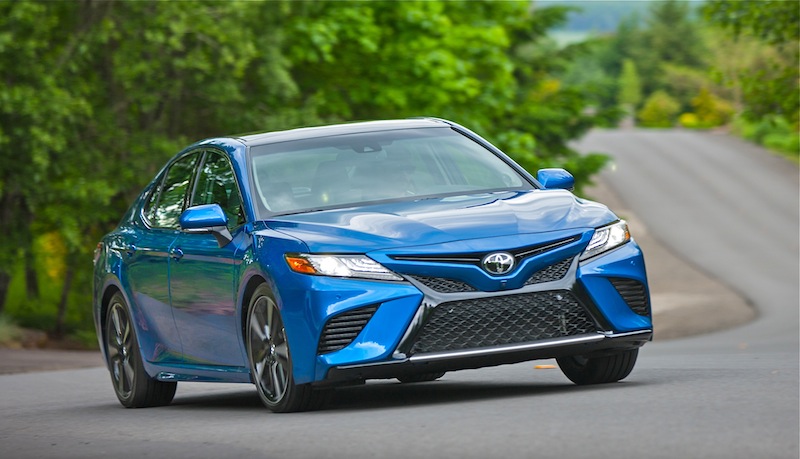 The Toyota Camry has been the best-selling car in America for the past 15 years. From its US debut in 1983 and throughout its first seven generations, it has become the go-to sedan for millions of buyers seeking reliable, durable, practical transportation. The Camry has often been accused of being boring or "vanilla," but let's not forget that vanilla is the most popular ice cream flavor of them all! And so it was with the sales of the Camry, year after year.
The Good (Or Bad) Old Days 
The automotive scene of today has evolved from those days in the 1980s, when long-term reliability was not easy to find in most cars. Back then, the large Japanese brands like Toyota and Honda started building great reputations for quality products. Detroit and the Europeans fell short, and so Japan Inc. made major inroads into our market. 
When we tried to keep them out with quotas, they built their own factories here and produced the same high-quality vehicles within our borders. US buyers of these locally built Toyotas and Hondas were very brand-loyal. Generations of Americans grew up riding in Japanese-brand vehicles. Cars like the Toyota Camry were the right size for our families and gave us no problems, and once we tried them we stuck with them. The connection with Detroit iron was broken.  
Things Have Changed 
Today, we love trucks and SUVs in seemingly unlimited quantities. The midsize sedan market, of which the Camry has been the leader, is steadily shrinking. Cars are now only 38 percent of the new car market, and dropping fast.
What is the new, eighth-generation Camry supposed to do about this state of affairs?
The Camry Gets A Makeover, Top To Bottom
Toyota has made the decision to keep all the practical qualities that made the Camry America's favorite sedan, while turning the Camry's emotional appeal from one up to eleven. Behold the 2018 Toyota Camry, which is designed to not only be admirable, but also highly desirable. Toyota aims to stay on top by taking sales from its midsize sedan competitors.
Toyota's engineers have transformed the 2018 Camry from the safe choice in midsize sedans to a sporty, upscale standard setter that you can't wait to get behind the wheel of. They have taken several giant steps toward reaching this goal with this groundbreaking new car.
A New Design Philosophy
The 2018 Camry's body design is more athletic than ever before, the result of a lower center of gravity and a wider stance. By lowering the height of the seats, the new Camry's roof could be an inch lower without losing any interior space. This means improved aerodynamics and handling. 
Other styling cues give the 2018 Camry the appearance of a premium sports sedan. In fact, the sportier SE and XSE trim levels of the 2018 Camry have a noticeably different body style than the L, LE and XLE trims.
Decidedly More Upscale Interiors
A unique new instrument panel design gives the 2018 Camry a driver-centered cockpit environment. Soft touch and premium materials are used throughout, mixing tones and hues for a sophisticated look. Seats are more comfortable and more nicely finished. A red leather interior is even available!
New Engines For More Efficient Power
The 2018 Camry's base engine is a new 2.5L four-cylinder engine with direct injection and 203 horsepower. You can step up to the 3.5L direct-injected V6 with 301 horsepower. Both are mated to a new eight-speed automatic transmission. 
The gasoline-electric Camry Hybrid also returns, delivering an EPA-estimated up to 53 MPG on the highway. 
More Safety Systems Standard
In addition to ten airbags and a backup camera as standard, Toyota includes the Toyota Safety Sense P suite of safety technologies on every Camry. This includes:
Pre-Collision System with Pedestrian Detection
Dynamic Radar Cruise Control
Lane Departure Alert with Steering Assist 
Automatic High Beams
The 2018 Toyota Camry Is The State Of The Art In Midsize Sedans
The 2018 Toyota Camry will appear at Toyota dealers in late summer of 2017. Prices range from $23,495 for the entry-level L to $34,950 for the top-line XSE V6. If you're in the market for a midsize sedan with some flavor, try the 2018 Camry and see if it's to your taste!